Healing the Hearts of Children in the Heart of Texas
The mission of Cherokee Home for Children is to engage children in education, community, and church-related activities to positively influence their lives. Preparing the children for the time where they leave Cherokee takes wholesome and dedicated people.
With your help we can make a difference. Our website furthers our mission by providing ways for you to learn more and get involved. Thanks for visiting.
Our boys, girls, and staff unloaded lots of gifts of food and household supplies to help our children.
Cherokee Day 2017 was full of great fellowship and good food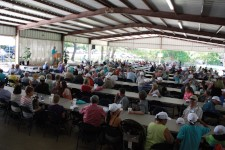 Our Cherokee Day Open House and Food Drive on May 6 was a great time for all.  With about 500 in attendance, our visitors enjoyed touring the cottages, getting to know the kids and staff, and viewing the progress of our new (under construction) girls' cottage.  They come from all over the state.   Encouraging comments and displays of generosity were everywhere.  We are thankful for those that help us offer safe and nurturing Christian homes to the children in our care.