Healing the Hearts of Children in the Heart of Texas
The mission of Cherokee Home for Children is to engage children in education, community, and church-related activities to positively influence their lives. Preparing the children for the time where they leave Cherokee takes wholesome and dedicated people.
With your help we can make a difference. Our website furthers our mission by providing ways for you to learn more and get involved. Thanks for visiting.
The New Pigs Are Here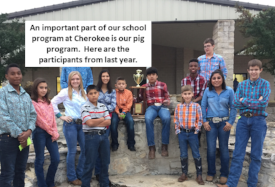 Our 2017 annual auction was a big success. Our thanks to those that donated and came for the auction.
The 2017 annual auction, held on September 30th, is now past.  It brought to the home $32,953.  This includes money made from the concessions provided by the Granbury Street Church of Christ in Cleburne. We are very thankful for all of the hard work and generous food they provided.
As we settle into fall, school and school activities fill our children's time.  Almost all of our teens are involved heavily in school sports related activities.  We continue to be thankful for all of those individuals and congregations that make our work helping children possible.  Thank you.