Ryan and Laci Duggan - Houseparents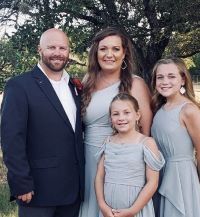 Ryan and Laci have been married since 2001. They have 2 daughters, Payton and Preslee.  Ryan has worked as a Lineman and has been a Wind Tech Leader in Wind Energy. Laci has been in banking and been a SAHM.  As a family, they like to go camping, geo-cache, and cruise. They moved to Cherokee from Winters, TX.
Ryan's dad, Danny Duggan, was the executive director at Cherokee Home for many years until his passing. Since Ryan's family has always been in childcare in some form or another, Ryan has always had a place in his heart for children and families. Ryan passed that love and desire for service to his wife and daughters.
In time, God put undeniable opportunities in place to lead Ryan and Laci to work at Cherokee Home.  Ryan is excited to continue the legacy his dad left. They are excited as a family to show God's love to the kids that come through their lives. Payton and Preslee are excited to have lots of brothers!