Mason and Tori Weaver - Relief Houseparents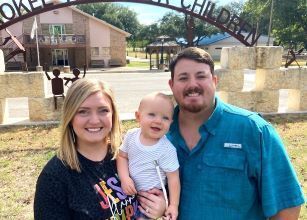 Mason, Tori, and Hutton Weaver joined Cherokee Home for Children as house parents in September 2023.  But this wasn't anything new for Tori who was born in Llano and came home at one day old to live in a cottage that her own parents were house parents in.  She started her life being watched over by the boys on campus, and now has the privilege of turning the tables and taking care of the boys.  While Tori lived her whole life on the campus of Cherokee Home, Mason grew up in a large family with six other siblings, plus many other guys who would come into the home with them and their coaching father who kept an "open door policy" to kids in need.
Mason and Tori married in 2020 and had their son, Hutton Lane, in 2022.  Mason worked as a lineman in Abilene and locally to San Saba for 5 years.  He left there when he was given the opportunity to work side-by-side with Tori in a mission field where they will show the love of family and the love of God to many kids that come their way.
Tori is a third-generation member of the Cherokee Home for Children team.  Her Papa, Danny Duggan, was the executive director for many years of Tori's life at CHC while her parents, Tommy and Kaci Morrison, began their work at CHC in 1998 and are still serving in administrative staff positions.