Tino and Linda Campoya - Houseparents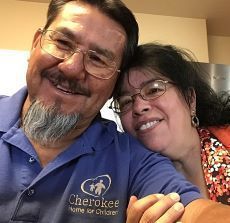 Tino and Linda have been married since 1981. They have two sons, Isaac and Ezequiel. Together they enjoy fishing, camping, and traveling. 
According to this couple, every child belongs to God and deserves to be loved and cared for according to Matthew 19:14. Jesus said, "Let the little children come to me, and do not hinder them, for the kingdom of Heaven belongs to such as these."
Tino worked for Medina Children's Home for two years, while continuing to work in his own business known as Rustico's Western Rustic Furniture.  Tino and Linda have always worked side by side. Prior to the furniture business, they had a restaurant in Muleshoe, Texas, known as Tino's Mexican Restaurant.  They moved to Cherokee from Kerrville TX.