Cyndi Suggs - Office Receptionist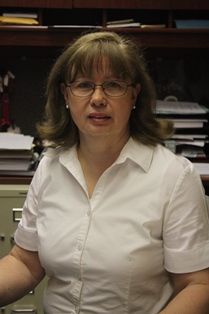 Cyndi Suggs has been an employee at Cherokee Home for 28 years, and over that time has held various positions. Currently, Cyndi works as the office receptionist.
Cyndi, originally from Chattanooga, Tennessee, is married to Doug, the preacher for the Cherokee Church of Christ. They have four children, three in-law children, and three grandchildren. Cyndi teaches Bible classes for all ages, works at the summer camp our children attend, and has made two mission trips to Russia to teach ladies Bible classes.
Cyndi's philosophy of Christian child care is: Accept the children where they are and help them learn to accept responsibility of actions and learn to solve problems. Teach them as much about God, the Bible, and the importance of the Church in the time they are here.