Healing the Hearts of Children in the Heart of Texas
The mission of Cherokee Home for Children is to engage children in education, community, and church-related activities to positively influence their lives. Preparing the children for the time where they leave Cherokee takes wholesome and dedicated people.
With your help we can make a difference. Our website furthers our mission by providing ways for you to learn more and get involved. Thanks for visiting.
Getting Ready to Go "Back to School"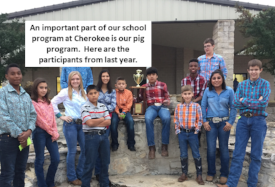 Thank you for helping us help our children grow socially and spiritually.
On our calendar, summer is on its way out pretty soon.  Football practice has started. School supplies are being gathered.  Trips to get new school clothes are planned.  Short end-of-the-summer trips are being taken.  There is definitely an excitement in the air. 
Our children attend a small public school two miles south of our campus.  They ride a school bus to and from.  The boys play six-man football.  The educational and social opportunities in this very small town school environment are often what is needed to give our children a chance to start over with a blank canvas that they can fill with new positive outcomes.  We want to thank our friends for helping us help them in this way.